Manual Buffing
Any shape with our professional technology
We have offered the high-quality products that satisfy the customer's demands with the biggest facilities and workforce in Shikoku for more than 30 years.
In the factory, there are 8 craftsmen who have 6 to 20-years careers.
We use paper buff in the construction from #80 to #800, and also sisal buff is used for the polishing from #240.
Those methods are always collaborated with TSUZUKI iron works and our semi-clean factory.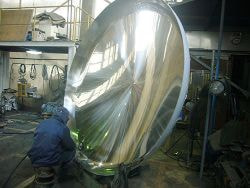 Automatic Plate Buffing
Any shape with our professional technology
It can be used for the process from #60 to #400.
The maximum size of SUS plate is 2 × 820 × 3000mm. The plate with the area under 500 × 500mm is recommended for manual buffing above.
Hair-line polishing is the finishing process which produce long polishing marks in #60 to #240.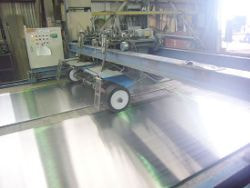 Automatic Headplate Buffing
A smooth surface polished with our unique machine
We can handle the convexo part from R800 to R1800 and the concave part from R550 toR1300
Over #240 is recommended for manual buffing above.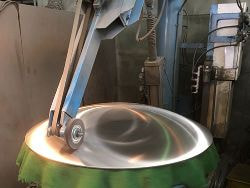 Automatic Pipe Buffing
A perfect pipes with high-quality surface
It is possible with pipe diameter from R40 to R210 and the length 6 meters.